You can start NOW and take online courses.
Purchase our online course package and get on the fast track to becoming a self-employed home inspector.
$695
Nevada Home Inspector License Requirements
Have a high school diploma or GED
Be 18 years of age or older
Complete appropriate amount of approved CLASSROOM education

40 hours for Residential Inspector
50 hours for General Inspector
60 hours for Master Inspector

Pass the Inspector of Structures Examination
Observe 25 inspections performed by a licensed inspector or attend a 25 inspection course
File with the Clark County and/or Nevada Secretary of State
Obtain General Liability and E&O Insurance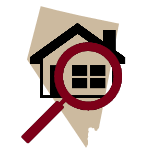 How to Become a Home Inspector in Nevada
The process of becoming a qualified home inspector is simple. ATI's courses provide real-world experiences to fully prepare and qualify you for your home inspection career. In Nevada home inspectors are licensed and regulated by the Department of Business and Industry, Real Estate Division.
Be Qualified. Not Just Certified™.
How Much Does a Home Inspector Make in Nevada?
The average annual salary for a home inspector in the state of Nevada is $72,090 per year or $34.66 per hour. Of course, if average is your goal, you won't be self employed for long. You stand to make much more when you become the BEST.
How Long Does it Take to Become a Home Inspector in Nevada?
It may take a few weeks or a few months. It's up to you. Getting certified or licensed may only take days, but that's not BECOMING a home inspector. Take ATI Training online courses at your own pace. The best way to become a home inspector the fastest in the state of Nevada is to start NOW.
How to Start a Home Inspection Business in Nevada
You've got the skills, but you've never dipped a toe into entrepreneurialism. Dive in. We'll help you get started with marketing materials including software, apparel, brochures, business cards and access to some of the most successful minds in the home inspection industry.
Home Inspector Exam Prep in Nevada
Taking a free online home inspector practice test is not enough to prepare them for the NHIE. That's why ATI Training has created an effective training program that doesn't just prepare you for the test, it gives you the tools & resources to build the most successful home inspecting business in Nevada. With our continued education opportunities, provided marketing materials & more, our mentors will stay with you every step of the way.
Everything you need to know about home inspector exam prep & preparing for the NHIE.
Request Home Inspector Training Info
Although our courses currently do not satisfy the required classroom education, they are a very helpful supplemental tool to prepare you for the examination and to become a Professional Home Inspector and Business person and make you stand out from your competition.
Online home inspector training courses help you train at your own pace.
Prepare to pass the Nevada Inspector of Structures Examination or refine your skills in common problem areas associated with home inspection with ATI Training courses.
TAKE ONLINE HOME INSPECTION COURSES
When you enroll in a single class or bundle, you receive valuable information, practice, and marketing strategies to increase the success of your business. Access materials online at your convenience and grow your Nevada home inspection business.