Home Inspector Exam Prep for the National Home Inspectors Exam (NHIE)
Be Qualified...not just certified™.
Passing the exams is the smallest battle to fight. Getting minimally certified to practice in states across the USA is only step 1 to becoming a successful, profitable home inspector. Whether all you need is to pass the NHIE – or pass your state's approved exam – we've got the tools and training to help you nail it without breaking a sweat.
If passing an exam is required in your state, we help you do it. Learn the home inspector license requirements in your state to see if you've got a test to prepare for.
Get more than simple test prep. We Career Prep.
If you're ready to take the next step in becoming a qualified home inspector, you'll need more than just a list of sample questions. Free online practice exams might trick you into thinking you're prepared for the exam, but you'll only learn the bare minimum.
We know you're more than the bare minimum. We want you to have the knowledge you need to create a successful career in home inspecting and start your own home inspection business.
ATI Training gives you customizable learning tools. You'll receive hands-on field training from the BEST home inspectors in the industry. While enrolled in our classes – both online courses and live in-person courses – you won't just memorize material, you will actually learn it, understand it, and DO it.
All of ATI's Classroom Courses come with our Exclusive Pass Rate Guarantee*.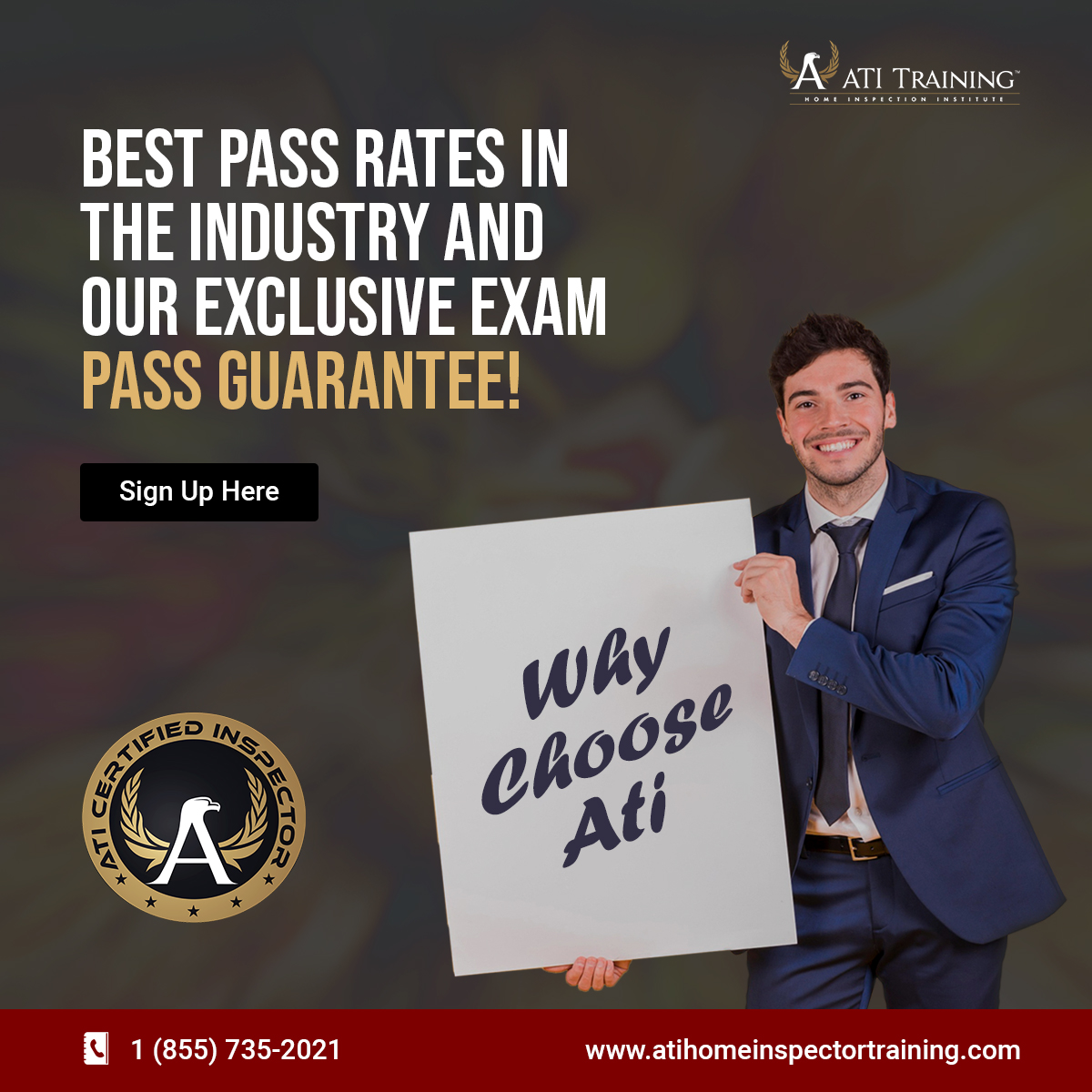 Take OUR Version of a Free Home Inspector Practice Test
What do you hope to get out of your home inspector training?
I want

real

field training experiences that will prepare me for the

real

I want to learn unique insights directly from the best in the business.
I want the BEST education with continuing education opportunities.
All of the above
Do you want to start way ahead of your competition?
I guess.
Sort of.
I'm not very competitive.
Absolutely.
Do you want to be certified in home inspection?
Sure.
Yes.
I do, but I don't want to work too hard.
I want to be more than just certified. I want to be qualified.
Did you answer all D's? Time to sign up with ATI Training.
Become Your Own Boss with ATI Training Certification
There is no substitute for hands-on learning. Our graduates are the best in the business because we don't just give them a certification. We give them qualifications.
Our training includes 24-hour online courses and resources. Once you've already exceeded the home inspector qualifications and are officially certified, you will have full association support to start and grow your business, including marketing materials and continuing education opportunities.
Learn More About Home Inspection in Your State: