How to Start a Home Inspection Business
Home Inspection Business Plan & Startup Costs
Make no mistake, home inspection is a business like any other, and starting one off on the right foot is extremely important. Every inspector needs to pay startup costs for tools, training, insurance and more. It's true: You can become a home inspector in just a few steps (depending on your state), but starting your own business is more intensive. You'll need an inspection license, a business plan sample, even business cards and a logo. The more you're able to invest in your own education, the quicker your income will climb through the roof.
In most states, ATI-Training gets you started to become a self-employed home inspector for under $1,000. Starting a new franchise might cost around $50K, but as an independent home inspector entering the field from scratch, barriers to entry are MUCH lower.
ATI is here to make it easy to start a business in home inspection; It's our specialty.
Steps to Starting Your Home Inspection Business:
Make a Home Inspection Business Plan

To make your new business as successful as possible, you need a solid plan of attack accounting for cost, market & timeline. Don't worry about making the plan alone; that's where we come in.

Home Inspector Business Model Samples

To start your own business, you need the facts. ATI gives fast, no-nonsense training on how to plan your business to maximize profit and client base. Learn from home inspection business template examples giving you every tool you need to own the market. Sign up for ATI's home inspection class for your state today, and thank us tomorrow.



Get Trained and Certified to be a Home Inspector

Home inspection business licensure and certification is the most important part of starting your own home inspection business. Getting the proper training can make or break your business.


Getting the right training is most important step to becoming a home inspector. Even the most experienced contractor or realtor will need to hone their skills in the classroom before they start making money. ATI offers more than a cookie-cutter, free three-day class; We teach state-specific training courses for more than 40 states. We provide training on home inspection business outlook, give you home inspection business plan samples—we'll even help you with marketing.

Get Home Inspector Liability/E&O Insurance

You need home inspector insurance to be a trustworthy home inspecting business. Period. Keep safe, make more money, get more clients—it's the name of the game.

Home inspectors are responsible for ensuring the safety of a property before a family moves in. Many homeowners will encounter problems years after you have inspected their property and blame you. It's not a matter of IF you get sued, it's a matter of WHEN you get sued. All ATI graduates have access to affordable Liability/Errors & Omission Insurance and Pay-Per-Home-Inspection insurance.



Obtain Home Inspector Tool Kits

Keep your business on-game and competitive with the tools and instruments you need to succeed, like electrical testers, AFCI/GFCI testers and more.

You can't expect to inspect a home without a proper set of tools! You'll need a combustible gas detector, an infrared thermometer and other tools you can't find at the corner hardware store. ATI offers graduates a choice of two complete home inspector toolkits, and an itemized list should you ever need a replacement tool.



Get and Represent your own Branded Inspector Apparel

Home Inspection Business Logos, Branding & More

A home inspector without a brand is just a guy in a truck. Establishing your own brand helps differentiate you from the competition. This is essential when you just start your business. ATI helps graduates access affordable home inspector apparel like hats, shirts, coats and more. Every business needs a brand. Take ownership of the public eye by working with ATI to create an eye-catching, memorable brand keeping you at the forefront of the market.

Install Home Inspection Software

ATI provides home inspection software designed specifically to keep your business moving forward. The right home inspection software will keep your new business profitable and organized. Write reports, schedule inspections and more from your computer, phone or tablet! Made by home inspectors for home inspectors, Horizon Software is perfect for home inspectors in all states except Texas. Texas requires a state-specific reporting software called Whisper, which is also available through ATI.


Produce and distribute Inspector Marketing Materials

Home inspection Business Names Ideas & Marketing Assistance

Businesses have business cards—it's common sense. ATI includes marketing packages for free in certain courses, keeping your name on the tip of every homeowner's tongue.
Your business card is often one of the first impressions you'll make on a client. Well-designed inspector marketing materials like brochures, business cards, websites and more differentiate you from the competition and help inform clients of the services you offer.



Once it's Up and Running, Get Ready for a Good Income

Register for taxes. Become a legal business. Profit. Yeah, it's that easy. Once you've completed these steps with ATI, you're ready to see some sweet, sweet money. Your prices are your own; from bungalows to mansions, everyone needs a home inspector, and they're willing to pay for it. Other than a few ongoing expenses (maintaining your license, liability/E&O insurance, etc.), the rest of the profit is yours. With ATI, you learn how to keep your charges competitive while maximizing ROI, leaving you with the most profitable business possible.
The key element in the graphic below is "lead generation." The best home inspector in the world with no connections or the ability to reach their target market is HANDCUFFED. ATI-Training has eyes on the prize — attaining the skills the become the very best home inspector AND the best at marketing yourself to become a dominant force in your local market.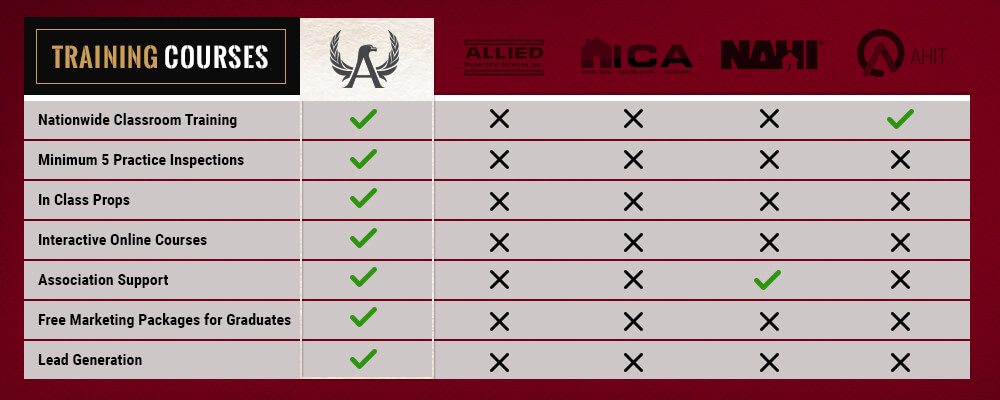 Ready to start making money? Contact ATI-Training and start a new career as an independent home inspector.
Interested in becoming a public adjuster? Learn more about our course offerings and get certified!