With ATI you become QUALIFIED not just CERTIFIED™!
ATI Training Program Benefits
The Pieces:
ATI Home Inspector training includes:
Hands-on Field Training
Detailed, Illustrated Course Books
State Specific Training
Instructor Access
Full Marketing Package to help you start your business

Website
Logos
Business Cards
Client Hand-Outs
Lead Generation
Reporting Software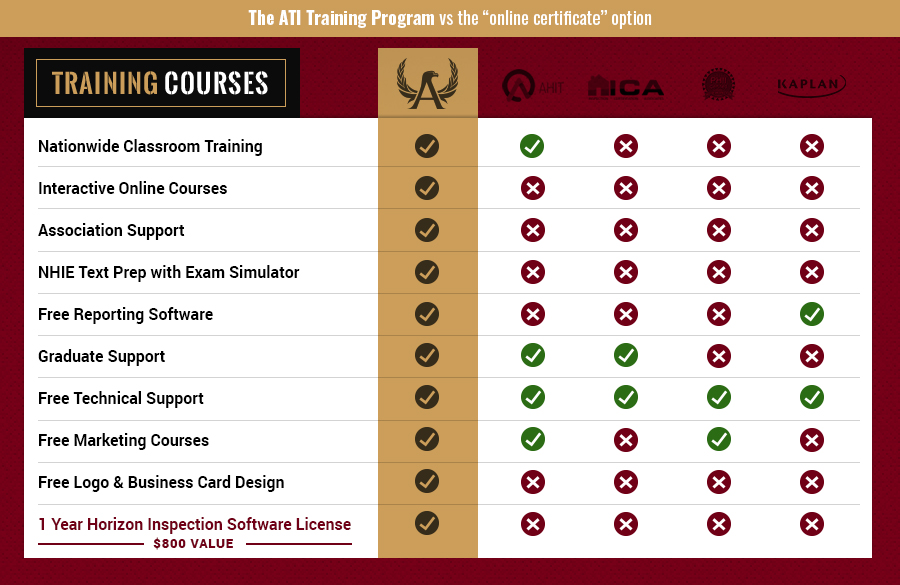 Once upon a time there was a home inspector, Scott Newcomer. He built a couple of his own multi-inspector businesses and then helped friends do the same. Then he made a few friends and did it several hundred more times.
Scott became THE thought leader in home inspection, speaking at conferences and directly training some of the most successful people in the industry.
Recognizing the complete lack of hands-on business training (in both the field and the office) offered everywhere else, Scott sold his business and founded ATI Home Inspector Training.
He began replicating his skills across the country, forming an all-star team of trainers would become the core of a very real network of home inspectors who had each others' backs.
Home Inspector Trainers
Inspector-trainers had to be wildly competent and wildly accountable to their students. Each trainer came with 25 years of experience - themselves each having built a multi-inspector business. The un-replicatable secret-sauce it took to make ATI a success was the mentoring. Instructors gave out their personal emails and phone numbers to students, fielding emails, calls and texts to guide students through real in-the-field problems. This network became formalized by establishing trainers and graduates as lifetime members of the AAAHI (AAA Home Inspector Association).
Building Businesses
The thing graduates needed most was CLIENTS. Scott wrangled the resources to get graduates a "build a business" starter kit but students were getting caught up in the details – the website, the logo, the business cards, etc. Every wannabe startup gets caught sinking way too much time in these. Scott knew the cure to most small business problems was increasing the revenue.
The real reason people were coming to Scott for home inspector training was not a certification from a tech school but for a better life. Most of his students had experience doing great work while punching long hours on a clock for someone else – often for too little money and too much wear and tear on their backs and knees. What they needed was to start getting compensated for the value they provided – not just the time.
State Specific Training

Getting through the exams by teaching to the test mattered. The exam is a legitimate hurdle for a lot of potential inspectors.
Other home inspector training agencies took such a narrow view of training – selling test prep packets not worth their weight in potato peels. The test itself was beatable – it was the State laws and liability provisions that people needed to navigate to operate a successful business.
Putting in the Work to Be Qualified, Not Just Certified™:

ATI Home Inspector Training is for people who know an hour of online videos and certificate of completion from a degree farm isn't going to build you a better life. We teach real life skills on how to think like a better home inspector AND business person.
Texting a question to your trainer a year later is a great perk, but protecting a seedling business starts with learning pattern recognition from an experienced mentor. It's about learning how to work so you can:
Appease and attract clients (especially repeat clients in real estate) and . . .
Protect yourself from business-threatening liability.
Contact our home inspector training school today to sign up for one of our nationwide classes.