With ATI you become QUALIFIED not just CERTIFIED™!
ATI Training Program Benefits - We Train the BEST of the Best.
ATI Pass Guarantee - Always Heads Above the Rest:
Why ATI? It's simple. ATI was founded by Scott Newcomer - basically the God Father of the home inspection world. Scott and his Dad (Roy) founded Newcomer's Educational Training in 1990 which then became AHIT. Roy decided to retire, and Scott became a politician for a short while and took a short break from training. However, not for long.....
Recognizing the complete lack of hands-on business training (in both the field and the office) offered everywhere else, Scott got back into the business and founded ATI Home Inspector Training.
Once again, Scott began replicating his skills across the country, forming an all-star team of trainers that would become the core of a very real network of home inspectors who had each other's backs and taught others to do the same.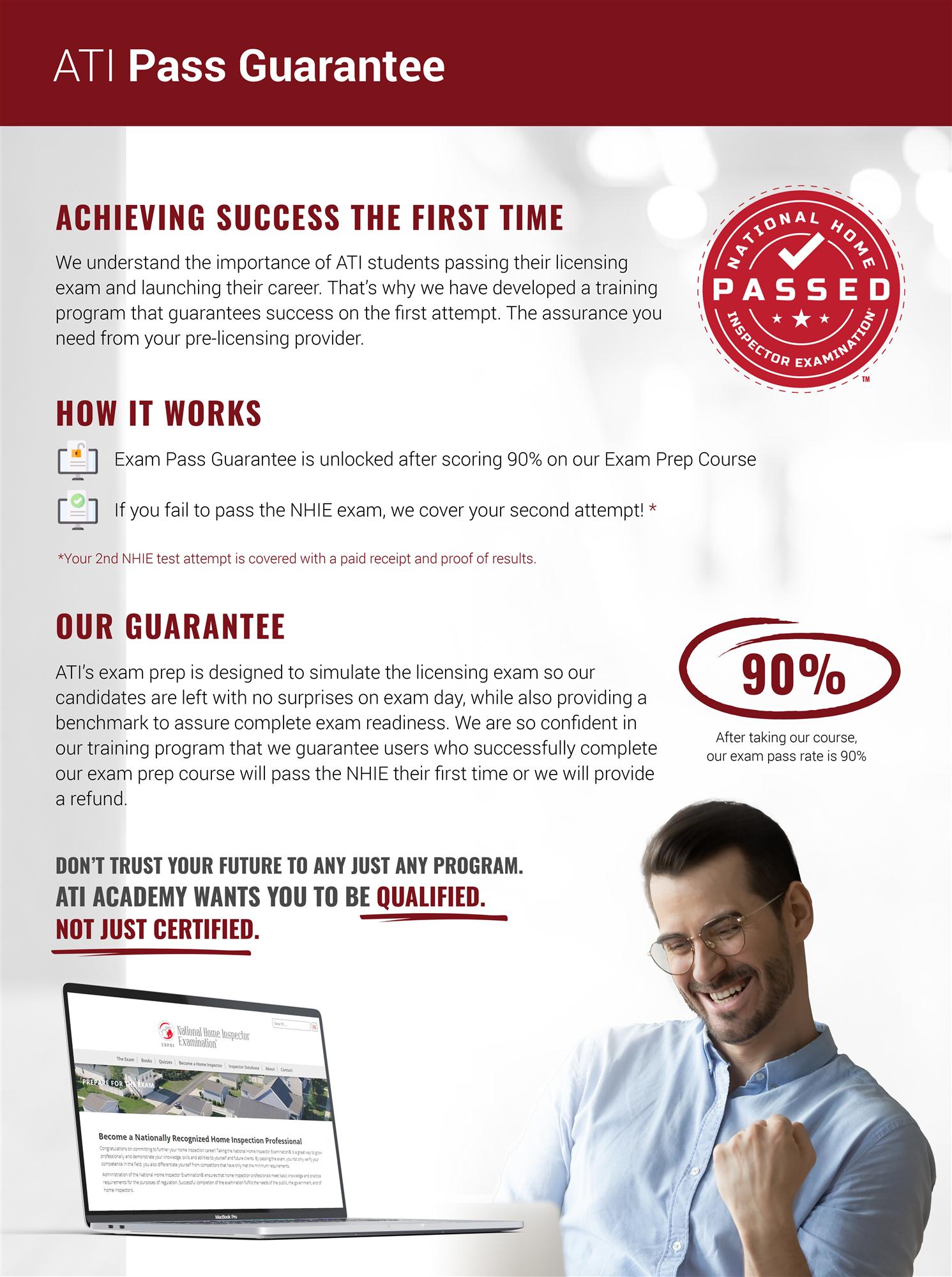 1 - TRAINING HOME INSPECTORS SINCE 1990.
All of Scott's Inspector-trainers have to be wildly competent and largely accountable to their students. AKA - the BEST of the BEST. Each trainer comes a minimum amount of experience and must have themselves each built a multi-inspector business. So they can TRAIN YOU to be the BEST of the BEST as well. The un-replicatable secret-sauce it took to make ATI a success was the mentoring. Instructors give out their personal emails and phone numbers to students, fielding emails, calls and texts to guide students through real in-the-field problems.
2 - ATI HELPS

YOU

BUILD YOUR NEW BUSINESS.
Included with Every ATI Inspection Training Course:
Hands-on Field Training with Superior Instructors
Detailed, Illustrated Course Books
State Specific - Standard and Ethics Training
Instructor Support - Unlimited.
Full Marketing Package to help you start your business

Business Cards
Client Hand-Outs
Lead Generation
Reporting Software
Logos and more...
3 - ATI IS FAMILY OWNED AND OPERATED.
Big enough offer the best; small enough to keep it real.

ATI Home Inspector Training is for people who want to get ahold of a real person and not a chat bot. Need to speak to the owner? No problem. In fact - EVER want to speak to one of the owners? Here's their emails: scott@ati-training.com and amy@ati-training.com.
How's THAT for customer service right out of the gate?
The real reason you're looking for a new career is for a better life. More time with family, more money and to control your own life. You don't want robot training or certification from a tech school that counts you as just a number. Let ATI help you to start getting compensated for the value you provide – not just the time.
In other words: Work to Be Qualified, Not Just Certified™:
Texting a question to your trainer a year later is a great perk, but protecting a seedling business starts with learning pattern recognition from an experienced mentor. It's about learning how to work so you can:
Appease and attract clients (especially repeat clients in real estate) and
Protect yourself from business-threatening liability.
And of course -

MAKE SOME MONEY!
Ready to get started? Contact our home inspector training school today to sign up for one of our professional inspection courses.