Home inspector license & certification requirements by state
ATI helps you get QUALIFIED, not just certified™. We understand that different people will need different qualifications, so no matter where you start your business, we've tailored our training program to exceed the requirements in your state.
Here's why a license and certification isn't enough
It's important to us at ATI that we provide our trainees with more than just the bare minimum. If you get the minimum training, you will have minimal success. Home inspectors who get their training through ATI graduate with the tools to enter the field with the highest qualifications, and the most success.
Want to be like everyone else? Get certified and go work for someone else. Want to be THE BEST and be your own boss? Get started with ATI-Training.
How do I become a home inspector?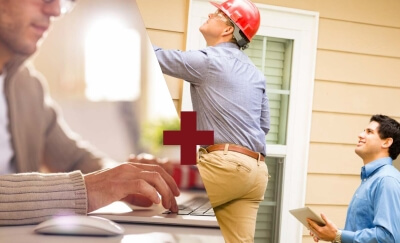 Online courses & hands-on field training prepares you for the field.
Every state has different minimum requirements to become a certified home inspector. Once you've made the decision to take the leap, ATI offers detailed training specific to each state. Online courses + hands-on field training with ATI Training puts you in the BEST position to vault ahead of your peers and become a profitable home inspector.
How long will this take?
You decide how long it takes to become a home inspector. Anyone can study for a few hours and take a quick test in exchange for a certification. We give our trainees the tools to invest their time in exchange for qualification, not just certification, so they can start their careers ahead of the competition.
How much will I make?
Home inspectors in the ATI-Training program have the freedom to decide their own salaries based on how qualified they are compared to the competition. Based on the national average, you can expect to make about $58K per year depending on where you do it. How many hours you put into your schedule is up to you.
How do I start my own business?
Our training program is built to produce entrepreneurial, independent home inspectors. From the time you start your training to leaving the program with a focused marketing plan, we will give you the tools you need to start a successful home inspector business.
Why Choose ATI home inspector training courses?
Our trainers are some of the most successful in the business. We know what it takes to get to the top, and we have the tools to get you there too. All of our training includes hands-on experiences, so you will know exactly what it's like to excel in the field instead of just reading about it.
Once you've completed all your coursework, we don't just leave you hanging. We offer marketing packages to help your business grow from the start. Continuing education opportunities are also available so you can grow along with your business.