Home Inspector Tools and Toolkits
All the tools you need to get started as a Home Inspector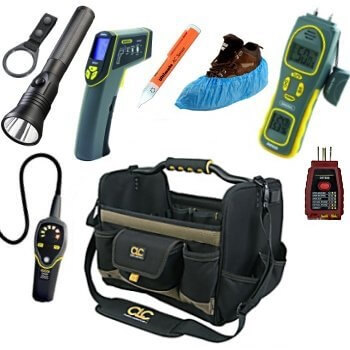 Deluxe Tool Kit - Everything you need to get started.
Flashlight - Streamlight USB Rechargeable
Home inspectors need a reliable flashlight to perform under adverse conditions. Strong, durable flashlights like the Streamlight are great for accessing dark areas where a strong reflection can make taking usable photos difficult.
Moisture Meter and Hygrometer - pin and non-invasive moisture meter as well as air temperature and humidity
Moisture meters come in two different types known as search and measure. Home inspectors us the meter in search mode to find high moisture levels hidden behind an array of materials like tile and vinyl or plumbing leaks under shower and bathroom floors. Measure mode uses the two pins to accurately measure moisture levels.
A hygrometer can measure the humidity level in your house and confirm whether the house has too much or too little humidity. Once you are aware of the issue, you can decide whether any action is required and, if so, what action.
Combustible gas detectors trace small amounts of combustible gases. While common gases such as natural gas and propane can be picked up using your nose, other dangerous gases can be odorless and easily overlooked.
Infrared thermometers read the temperature of whatever you point it at using the infrared beam. It's used to check heating and cooling equipment, registers and electrical equipment like circuit breakers.
A voltage detector is used to determine if voltage is present in wiring or a device.
GCFI Testers check that both arc-fault and ground-fault circuit interrupter devices are working.
Inspection Mirror - General Tools 2-1/4 inch round inspection mirror
6 in 1 Screwdriver - Morris Products 6 in 1 Screwdriver
Tool Carrier.