Werner Recalls Aluminum Ladders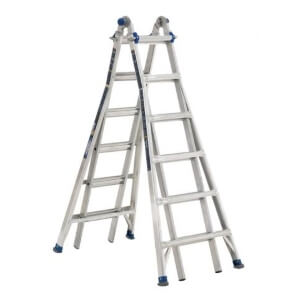 Details from the Consumer Product Safety Commission: "This recall involves five models of aluminum telescoping ladders that can be used in five different positions (twin step ladder, stairway step ladder, extension ladder, wall ladder and as two scaffold bases). The date code is stamped on the inside of the outer leg of the ladder, beneath the bottom step. The model number is printed on a label located on the side of the ladder rail. The recalled ladders have a load capacity of 375 lbs."
Name of product:
Multi-Purpose Telescoping Aluminum Ladders
Hazard:
The ladders can break while in use, posing a fall hazard to the user.
Remedy:
Refund
Recall date:
June 20, 2018
Units:
About 78,000
Consumer Contact:
Werner toll-free at 888-523-3370 from 8 a.m. to 6 p.m. ET Monday through Friday, email at customercare@wernerladder.com or online at www.wernerco.com and click on "News, Events & Recalls" located at the top of the page.
Recall Details
Model Number

Date Codes

Ladder Size

MT-IAA-13A

121744XX or 011844XX

13 feet

MT-IAA-17A

17 feet

MT-IAA-22A

22 feet

MT-IAA-26

26 feet

MT-IAA-26A

26 feet

Remedy:
Consumers should immediately stop using the recalled ladders and return the ladder to the store of purchase to receive a full refund.
Incidents/Injuries:
The firm has received one report of a ladder breaking while in use, resulting in one injury to the left side and elbow of the consumer.
Sold At:
Home Depot and Lowe's stores nationwide from April 2018 through May 2018 for between $180 and $275.
Importer(s):
Werner Co, of Greenville, Pa.
Manufactured In:
China
Recall number:
18-179
You can read the official documentation or report an incident from cpsc.gov.
Learn More About Home Inspection in Your State: