Getting your Name Out as a New Home Inspector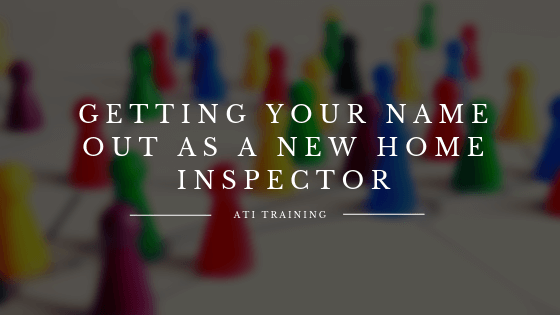 Being new to any industry can be a challenge! As a new home inspector, it is important to set a marketing plan in place so that your name comes to mind when people are looking for a home inspector. Following these some basic steps right away will create a foundation and help your business grow exponentially.
Build a website.
Having a website allows you to appear as an established business in the minds of customers. This is somewhere they can learn about you and contact you. It also allows you to pop up in Google searches when someone who doesn't know where to start goes looking for a home inspector.
Network and make connections!
Starting a new business is a lot like the first day of high school in some regard. If you don't make friends, it will be a bumpy ride. Make the right friends and connections and things get much easier. Business networking is not much different. It can help you reach more clients and eventually the business growth and community of referrals you need to reach success. Networking plays a vital role in business growth today. It provides an environment where people can share their success and mistakes with each other. Ultimately giving you an answer key before the test!
Bonus question answer: Realtors can be your best friend in this industry. Building a strong network of realtors can lead to a long list of referrals.
Marketing materials.
Have something to hand homeowners besides a contract. Create business cards and potentially flyers that explain your service and quality. This will help you to stand out amongst other home inspectors they might meet with.
Join an association.
Being a member of a home inspector association allows you to share tips, learn about new tools and opportunities, as well as ask questions. Associations give you an environment of support, growth and opportunity you don't get standing on your own. They are amazing resources for continuing education, information, and connections. Do not underestimate the value these add to you as a professional and your company.
Don't stop learning.
Training to become a home inspector is essential, but it is just important to grow your business after you are established.
If you are a home inspector who is required to be licensed by your state, it may be necessary to acquire continuing education credits to keep your license active. Not all states have these requirements though, and this could lead to a decline in the quality of work within the industry. Continuing education is essential to staying on top of current regulations, client's needs, and what's going on in the industry.
© ATI-Training. Do not copy or publish without explicit permission from ATI-Training.
Learn More About Home Inspection in Your State: