3 Things that Should Never be Overlooked in a Home Inspection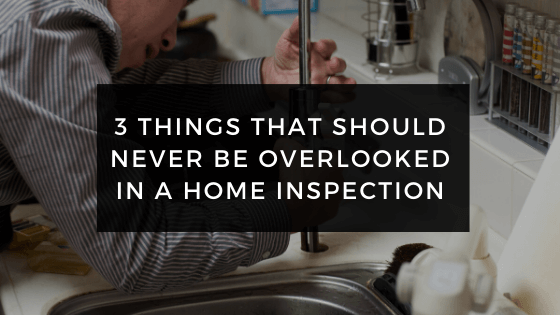 Building credibility as a home inspector comes with high quality work. There are several areas that inexperienced or less professional home inspectors don't spend enough time on that can quickly ruin a reputation. Avoid the mistakes of others and make sure to keep a close eye on the following areas during a home inspection.
Plumbing. Due to its tricky location, plumbing can be a pain to inspect and ensure everything is up to code. Anyone who has had issues with plumbing before, however, knows that even the smallest mistake can lead to a whole lot of damage resulting in a whole lot of money lost for the homeowner. Make sure to spend a good amount of time during your inspection on plumbing and notice the details. Your homeowners will thank you for the extra effort.
Roofing. Another big cost for homeowners is the roof. Make sure the potential owner knows of any rotting, cracking, curling, cupping, or missing pieces. These issues could result in even bigger and more costly issues in the future of the home. It is best that they know about them in advance and are prepared for anything that could come of it.
Wiring. During your home inspection, do more than just a quick glance behind the walls at the electrical wiring. A longer look back there, can help you to see defective wiring or exposed wires that could lead to fire. This is one of the most important places to inspect because it not only prevents a financial burden on the owner but the risk of injury or death.
The gist of the story is, take your time! Do not rush through an inspection to get to lunch or off the clock faster. These inspections are important, and homeowners are putting their trust in you. If you do not follow your procedures and pay attention to detail, the homeowner could lose a significant amount of money or worse.
Learn More About Home Inspection in Your State: