Rhode Island Home Inspector Training
States >> RI

---
No upcoming live classes in your area. Check back in the future for availability.
Click here to browse our map of all live class availability.
ATI Training offers public adjusting/disaster relief and home inspection courses around the country. Committing to a full in-person course is the best path to become a better home inspector AND BUSINESS PERSON.
Be Qualified. Not Just Certified™.
Every day people looking to start and run their own business make the commitment to improving their lives by acquiring the necessary skills to succeed. Passing the exams and checking the requirement boxes are only part of the battle. ATI courses are field training and business boot camp, led by instructors who have 25 years of experience AND have built their own businesses. You will not find more qualified instructors mentors anywhere.
With ATI you will be field-and-office ready to begin a successful practice. Courses come with lifetime AAAHI (membership and instructor support).
Learn at your own pace with an online home inspector training course.
Our online home inspector training course prepares you for the National Home Inspector Exam, includes a marketing packet for your new business - AND prepares you for a lucrative career in home inspection.
Online courses ARE valid for pre-licensed training requirements in Rhode Island.
How to Become a Home Inspector in Rhode Island
The process of becoming a qualified home inspector is simple. All American Training Institute's (ATI) courses provide real-world experiences to fully prepare and qualify you for your home inspection career. In Rhode Island a law was passed to license home inspectors, however the program was never funded or implemented. Once funding is provided home inspectors will be regulated by the Contractors Registration and Licensing Board.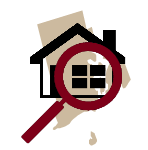 Rhode Island Home Inspector Licensing Requirements
Have high school diploma or GED
Pass the

NHIE

Been a licensed Associate Home Inspector for at least one year and conducted at least 100 inspections
To apply for Associate Home Inspector you must complete 50 home inspections under the direct supervision of a licensed inspector
How Much Does a Home Inspector Make in Rhode Island?
The average annual salary for a home inspector in the state of Rhode Island is $55,590 per year or $26.73 per hour. Of course, if average is your goal, you won't be self employed for long. You stand to make much more when you become the BEST.
How Long Does it Take to Become a Home Inspector in Rhode Island?
It may take a few weeks or a few months. It's up to you. Getting certified or licensed may only take days, but that's not BECOMING a home inspector. Take ATI Training online courses at your own pace. The best way to become a home inspector the fastest in the state of Rhode Island is to start NOW.
How to Start a Home Inspection Business in Rhode Island
You've got the skills, but you've never dipped a toe into entrepreneurialism. Dive in. We'll help you get started with marketing materials including software, apparel, brochures, business cards and access to some of the most successful minds in the home inspection industry.
Request Home Inspector Training Info
Our home inspection course will fully prepare you to pass the National Home Inspector Examination. No matter what city you will be inspecting in; Coventry, Cranston, Cumberland, Providence, or Pawtucket our home inspection training will prepare you for anything you will encounter while inspecting in Arizona.
Online Home Inspection Training Class from the Leader in Home Inspector Training
Can't commit to classroom training due to your work schedule or location in Rhode Island? Enroll in our Comprehensive Online Bootcamp and learn on your own time. As the leader in home inspection training, we've designed this course to be the most thorough distance learning experience ever created.
Our online certification course will prepare you to ace the National Home Inspector Examination. The course also includes lifetime AAHI membership and instructor support, as well as a marketing packet for your new business.