California Home Inspector Training
States >> CA

---
No upcoming live classes in your area. Check back in the future for availability.
Click here to browse our map of all live class availability.
ATI Training offers public adjusting/disaster relief and home inspection courses around the country. Committing to a full in-person course is the best path to become a better home inspector AND BUSINESS PERSON.
Be Qualified. Not Just Certified™.
Every day people looking to start and run their own business make the commitment to improving their lives by acquiring the necessary skills to succeed. Passing the exams and checking the requirement boxes are only part of the battle. ATI courses are field training and business boot camp, led by instructors who have 25 years of experience AND have built their own businesses. You will not find more qualified instructors mentors anywhere.
With ATI you will be field-and-office ready to begin a successful practice. Courses come with lifetime AAAHI (membership and instructor support).
Learn at your own pace with an online home inspector training course.
Our online bootcamp prepares you for the National Home Inspector Exam, includes a marketing packet for your new business - AND prepares you for a lucrative career in home inspection.
Online courses ARE valid for pre-licensed training requirements in California.
How to Become a Home Inspector in California
Understand the work and evaluate your skills

Be honest and give yourself a self-evaluation. Does this kind of thing come naturally to you? Depending on your experience, background and skill level, becoming a home inspector may come very easily to you (or demand a steeper learning curve). Either way, ATI Training is the program for you.

Learn California's licensing requirements

You can't embark on a career path as a house inspector before understanding the landscape in terms of regulations. Basic requirements for home inspectors in California are listed below.

Get trained

Leap into a new career with the BEST home inspector training program in the country.
Becoming certified and licensed is just the first step. ATI Training helps you take many more.
The process of becoming a qualified home inspector is simple. All American Training Institute (ATI)'s courses provide real-world experiences to fully prepare and qualify you for your home inspection career. In California home inspectors are currently not required to obtain a home inspector license, however they are regulated by a trade practice act.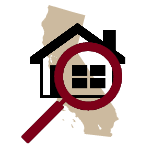 California Home Inspector Licensing Requirements
Attend a home inspection training course
Pass the NHIE
Our all-inclusive course is designed to ensure you understand the proper process of a Home Inspection and current Home Inspection trends and issues. This hands-on approach will familiarize you with the systems of a building and how the systems work as a whole. Common construction methods will be covered illustrating common issues and concerns along with environmental concerns. This course also explains correct report terminology and writing along with the Standards of Practice (SOP).
Our courses will fully prepare and qualify you to conduct home inspections and pass the National Home Inspector Examination. No matter what city you will be inspecting in; Anaheim, Los Angeles, San Diego, San Jose, San Francisco, Fresno, Sacramento or Long Beach our home inspection training will fully prepare you for whatever you may encounter while performing home inspections in California.
How Much Does a Home Inspector Make in California?
The average annual salary for a home inspector in the state of California is $81,030 per year or $38.95 per hour. Of course, if average is your goal, you won't be self employed for long. You stand to make much more when you become the BEST.
How Long Does it Take to Become a Home Inspector in California?
It may take a few weeks or a few months. It's up to you. Getting certified or licensed may only take days, but that's not BECOMING a home inspector. Take ATI Training online courses at your own pace. The best way to become a home inspector the fastest in the state of California is to start NOW.
How to Start a Home Inspection Business in California
Your silicon valley friends might sneer at the thought of any semblance of physical labor - but you know better. There's a huge market and tons of money waiting to be made as the BEST home inspector in California. ATI Training provides marketing materials and all the tools necessary to get your business off the ground and running.
Request Home Inspector Training Info
In addition to learning how to perform a proper and professional Home Inspection, you will also leave with a thorough understanding of how to start and grow your business. You will receive an entire set-up for business success:
* Business Processes, Administration and Start-Up
* Communication Techniques
* Post Class Business Assistance and Technical Inspection Support
Classes are taught in conjunction with Santiago Canyon College Click here for online registration Enter 30745 under "Keyword" to search for the home inspection course.
Take online home inspector courses to work at your own pace.
Prepare to earn your home inspector certification in California or delve deeper into common problem areas through continued education with ATI Training courses. Enroll in a single online course or bundle to cover specific areas of interest like electrical systems and roofing.
TAKE ONLINE HOME INSPECTION COURSES
Each course provides you with the information, practice, and application strategies you need to succeed as a home inspector in California.
Become Your Own Boss as a Home Inspector
Becoming California's best home inspector means going above and beyond passing a couple tests and doing the bare minimum. No other home inspection training company prepares you better for working in the field and inspecting homes in throughout California. The benefits of a career in home inspection include being in charge of yourself, flexibility in determining your own workload, and a lucrative annual salary.