You can start NOW and take online courses.
Purchase our online course package and get on the fast track to becoming a self-employed home inspector.
$695
Upcoming Classes in partnership with University of Wisconsin Colleges. For more information Click here!
The process of becoming a qualified home inspector is simple. ATI's courses provide real-world experiences to fully prepare and qualify you for your home inspection career. In Wisconsin home inspectors are licensed and regulated by the Department of Safety and Professional Services.
Wisconsin Home Inspector License Requirements
Have a high school diploma or GED
Pass the NHIE
Pass the State Exam
40 hours of continuing education every two years - to renew your license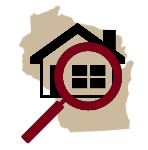 How to Become a Home Inspector in Wisconsin
Understand the work and evaluate your skills

Depending on your experience and background, becoming a home inspector may take weeks or several months. Take an honest evaluation of yourself and cater your training accordingly.

Learn Wisconsin's licensing requirements

The state's requirements dictate everything. You'll need to know how many hours of education are required to be certified.

Get trained

Leap into a new career with the BEST home inspector training program in the country.
Getting certified and licensed is only the beginning.
ATI Training provides you with all of the knowledge and tools to pass both exams required for Wisconsin home inspector certification. We cover a wide range of topics at ATI from ethics and legal issues of being a home inspector to structural integrity.
We produce some of the most qualified home inspectors in the state of Wisconsin, and the level of education we provide is top notch! Anyone can take a three day home inspector training course. However, this is simply not enough experience to prepare you for real life training!
Our home inspection course and will fully prepare you to pass both the State and National Home Inspectors Examinations. No matter what city you will be conducting home inspections in: Kenosha, Milwaukee, Green Bay, Appleton, Madison, Walworth, Lake Geneva, Tomah, Marshfield, Stevens Point, Eau Claire, Whitefish Bay, Pewaukee, Door County, Mosinee, Racine, or Waukesha, our home inspection classes will fully prepare you for what you will encounter while performing home inspections in Wisconsin.
How Much Does a Home Inspector Make in Wisconsin?
The average annual salary for a home inspector in the state of Wisconsin is $54,940 per year or $26.41 per hour. Of course, if average is your goal, you won't be self employed for long. You stand to make much more when you become the BEST.
How Long Does it Take to Become a Home Inspector in Wisconsin?
It may take a few weeks or a few months. It's up to you. Getting certified or licensed may only take days, but that's not BECOMING a home inspector. Take ATI Training online courses at your own pace. The best way to become a home inspector the fastest in the state of Wisconsin is to start NOW.
How to Start a Home Inspection Business in Wisconsin
You'll need training & certification, liability and E&O insurance, tool kits, apparel and much more to get off the ground running with a home inspection business in the state of Wisconsin. ATI Training has every resource you need to start a business.
Home Inspector Exam Prep in Wisconsin
ATI Training provides NHIE prep that goes far beyond a simple free online home inspector practice test. You'll get a hands-on training experience that provides real knowledge you can use to build the best home inspecting business in Wisconsin. We stay with you long after you receive your certification by offering continued education opportunities, marketing materials & more.
Everything you need to know about home inspector exam prep and how ATI Training helps you pass easily.
Request Home Inspector Training Info
Learn at Your Own Pace. Take Home Inspection Training Courses Online!
ATI grants you accesses to some of the most highly trained home inspectors in their field in our online coursework. You can absorb all of the material as quickly or slowly as you need. This helps students ensure that they are the best they can be before entering the field. This also means that you can earn your certification much faster.

Benefits of Working for Yourself
Sick of taking orders in your current dead-end job? You've got ambition to make something of yourself, but you're not sure how to make it happen. Becoming a home inspector in the state of Wisconsin is straightforward, but becoming the best home inspector in Wisconsin means dedicated yourself wholly to the profession and getting to know the process and industry like the back of your hand. One of the perks of a career in home inspection is you are in charge, and answer only to yourself.
Home inspector training courses provided by the All American Training Institute, live or online, provide you with the tools necessary to learn the trade better than anyone else, become your own boss, and secure a lucrative career. We give you more than simple certification. You become the best in the field, a home inspector Wisconsin residents demand.
Why Take Home Inspection Courses with ATI?
Simply going through the motions and passing the NHIE and Wisconsin State Exam with acceptable marks will technically make you a certified home inspector, but you'll do nothing to stand out from the pack without going above and beyond. The All American Training Institute provides aspects of home inspector training our competitors cannot match:
Minimum 5 practice inspections
Interactive online courses
In class props
Free marketing packages for graduates
How to get leads
ATI home inspector training also includes State specific training, instructor access and detailed illustrated course books. Training with the All American Institute means building the skills necessary to become the best home inspector in your field.
An online home inspector training class helps you learn at your own pace.
Earn your Wisconsin home inspector license by preparing for the State and National Home Inspectors Examinations or meet license renewal requirements by completing 40 hours of continuing education every two years with ATI Training courses.
TAKE ONLINE HOME INSPECTION COURSES
Our online courses can be completed individually or bundled to make it convenient to access valuable information, practice, and marketing materials to grow your expertise and your Wisconsin home inspection business.
Special Discounts for Military Veterans
ATI offers military discounts for veterans looking for a 2nd career after serving their country. Home inspection is a very popular career choice for military veterans, and we help jumpstart your career with superb home inspector schooling. Contact us for more details on our discount program.
Home Inspection: A Perfect Job for Former & Current Public Servants
Police officers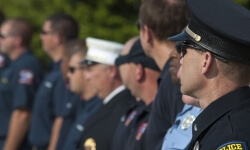 Start your second career in home inspection after serving the public in law enforcement. Becoming a home inspector is a great option for former police officers to build their skills and become their own boss in the private sector.
EMT & Firefighters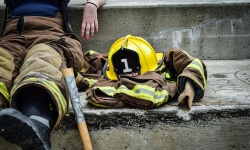 A career in home inspection is an excellent choice for post-retirement work or as a side job as you continue to serve the public. ATI Training helps you build your skills, make your own schedule and become your own boss.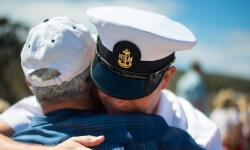 Wisconsin veterans find a tremendous second career in home inspection. Becoming a home inspector means becoming your own boss in the private sector - helping home buyers and sellers assess properties and make a bunch of money.
Already an Inspector? Click the continuing education box below to see a listing of courses that will apply to your renewal hours.